The weather is warm and perfect for outdoor activities for you to enjoy on your own or with your friends and family. Golfers, polish your clubs, grab your most comfortable pair of cleats, and check out some of the top golf courses in Orange County. These golf courses are great places for you to spend a couple of hours or even an entire day!
1. Oak Creek Golf Club
Photo Source: Oak Creek Golf Club
The fees at Oak Creek Golf Club are steep but well worth it. Located in Irvine, this range was awarded "Orange County's Best Practice Facility" by Fore Magazine in 2016. They have a state-of-the-art practice facility that is well organized, beautifully kept and features a nine-acre all-terrain landing area.
The range is one of the only courses in Orange County that has a large practice bunker and LED lighting system that allows golfers to practice even after the sun has set. With so much to offer, this course is a must for golfers wanting to fine-tune their skills.
2. Brea Creek Golf Course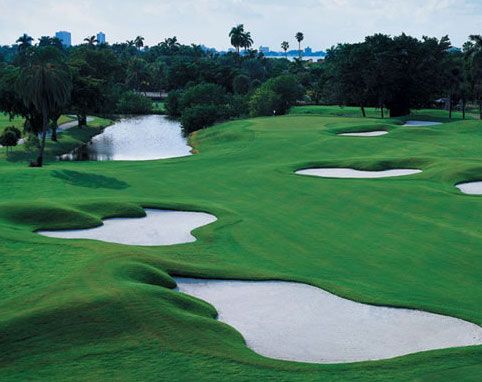 Photo Source: Tee Times For You
Brea Creek Golf Course is a 9-hole golf course that is great for golfers of all levels. The course is extremely affordable and is the perfect place for those who want to simply kick back and have a good time. FootGolf is one way the facility and its golfers like to have fun. The hybrid sport combines golf and soccer and is played on a shortened course.
Players play on a shortened course following closely the rules of Golf. Players have a blast attempting to kick a soccer ball into designated cups. If FootGolf isn't your thing, simply enjoy the scenic course and take advantage of the daily happy hour, which goes from 3pm until closing.
3. Anaheim Hills Golf Course
Photo Source: Anaheim Hills Golf Course
Anaheim Hills Golf Course prides itself in its clean par-71 course that is both fun and challenging. The course uses natural foliage and the local surrounding to create a unique experience for golfers. The scenery and the Spanish-Mediterranean architecture of the facilities alone are enough to make this golf course an absolute must-see.
4. Strawberry Farms Golf Club
Photo Source: Strawberry Farms Golf Club
Speaking of scenery, Strawberry Farms Golf Club is a 35-acre reservoir nestled in a canyon. Imagine rolling green hills with, granite boulders and natural waterfalls and you are picturing Strawberry Farms. The 18-hole course will keep golfers busy and will provide them with hours of entertainment amidst wildlife and the beauty of local plant life. No wonder it's one of the top golf courses in Orange County!
5. Monarch Beach Golf Links
Photo Source: Golf Advisor
OC Weekly awarded Monarch Beach Golf Links as the winner of the Best Golf Course of in 2015 and Golf Magazine awarded the range the Gold medal for premier golf resorts for 2016. Architect Robert Trent Jones Jr. designed the elite golf course in the style of the Scottish Links. The complexity of the course is paralleled by the beauty of the ocean view.
Whether you are playing on the oceanfront at Monarch Beach or playing FootGolf at Brea Creek, Orange County offers a variety of opportunities for golfers at any level. Grab your golf clubs and get swinging at these top golf courses in Orange County!